Ready to work together: Phoenix Innovate and Co.act Activate Fund
Metro Detroiters have always known the power of collaboration. From the assembly line to the board room, we're most successful when we work together.
That's why I'm proud to announce that Phoenix Innovate has been selected as one of Co.act Detroit's service providers for an innovative new funding project, the Activate Fund. The Fund selected 25 nonprofits from a pool of 260, and will provide support in areas most needed by these groups: in areas like fundraising, donor resource management, and communications and marketing.
And here's where we come in as an Activate Fund service provider. We're happy to be able to offer our expertise in marketing, communications, nonprofit fundraising and research-based solutions to the grantees. Co.act Detroit has established a portal where nonprofits will search for, and match with, the providers who can best support their needs.
I've been working with Co.act Detroit for about a year as part of their Co.Lab Connect program. On the last Thursday of the month, I provide nonprofits with one-on-one consultations about fundraising and marketing. These sessions cover a range of services and always leave me feeling energized because we're able to work out creative solutions to common nonprofit problems together.
We look forward to continuing the invigorating work of tackling some of Southeast Michigan's biggest nonprofit challenges, together with our partners through Co.act and the Activate Fund.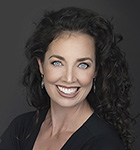 Trish Dewald
EVP of Non-Profit Solutions