Fundraising
Columbus Humane Match Appeal Fundraising Campaign
Exceeded the match goal by 73%.
400% ROI on promoted peer-to-peer fundraising.
CHALLENGE:
Columbus Humane is an animal adoption and medical resource that also serves as the law enforcement and cruelty investigation entity for its community. The non-profit animal welfare organization had a generous offer from a donor to match $75,000 in donations. Our team was challenged with generating $75,000 in individual gifts through a fundraising campaign to maximize the generous donor's offer.
SOLUTION:
Prior appeal match fundraising campaigns had performed well, but we wanted to take full advantage of the offer to exceed the match. Historic appeals average about half of the target goal so we knew we would have our work cut out for us. We employed a multi-channel approach that included:
A coordinated effort of direct mail, email and social media.
A peer-to-peer fundraising effort on social media that we promoted to an audience that looked like current donors. (A tactic the client hadn't previously used.)
All communications reinforced Columbus Humane's brand identity with a playful design that visualized the benefit of the match fundraising campaign: "Double the Impact," versioning the messaging and visuals for known dog and cat lovers to create a stronger emotional response.
Employed a deadline to create urgency then extended the deadline on the last day to tie-in to Giving Tuesday and push giving to higher levels.
RESULTS:
Our Authentic Marketing approach generated transformative and sustainable results for the client:
We exceeded the match goal by 73%.
Generated 400% ROI on promoted peer-to-peer fundraising effort.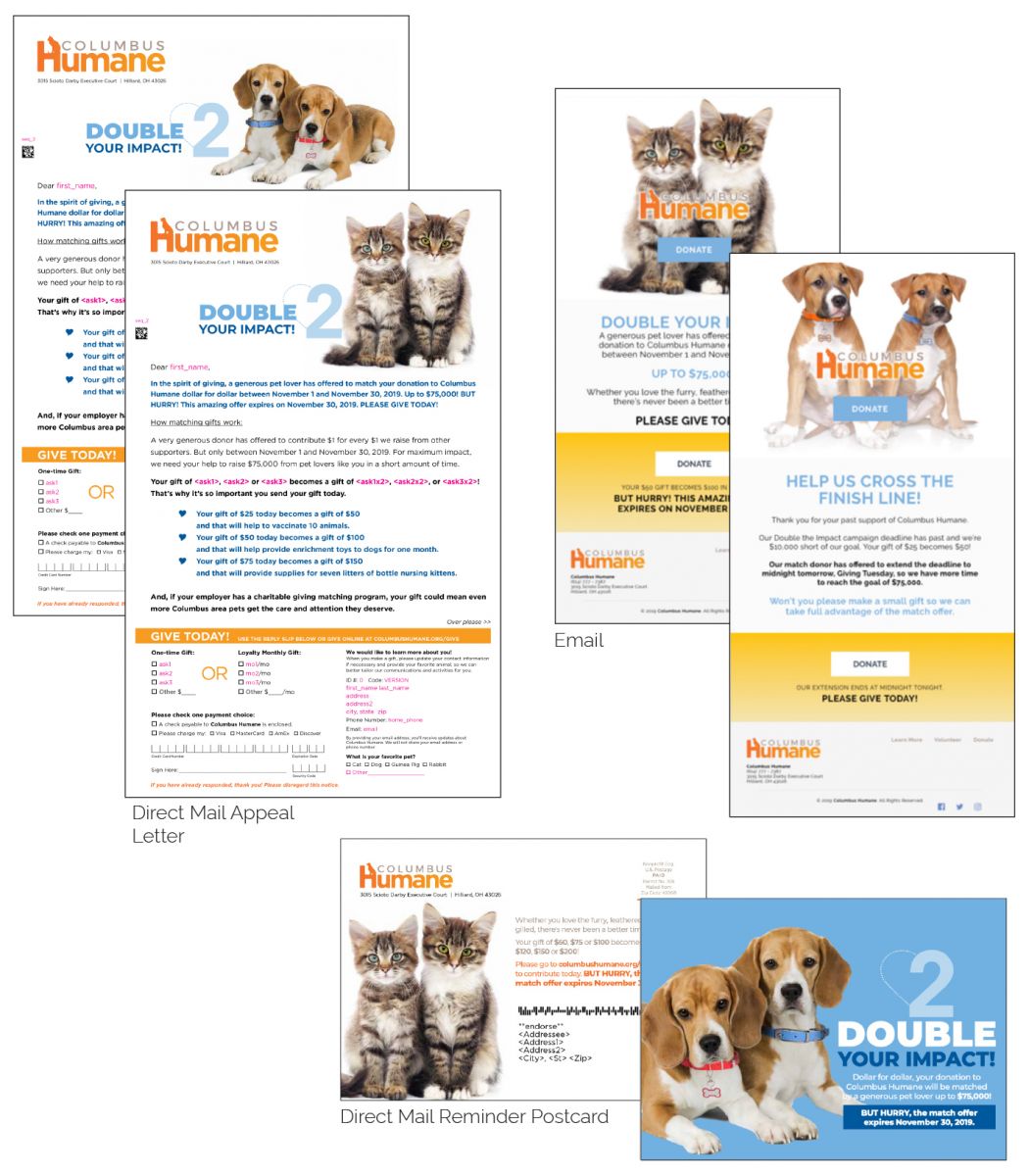 "One of the things that I value most about our partnership with your team is their entirely custom approach. We've worked with a number of direct mail and digital firms in our fundraising over the years and you were the first to offer highly custom products in an affordable way. Now all of our messages showcase our unique brand fully and we're seeing improved results."
-Rachel D.K. Finney, CAWA; CEO of Columbus Humane
---