Everything's gone digital. Now is the time to up your digital marketing game.
As the coronavirus wears on worldwide, the conditions it has created is changing our behavior. The world has gone increasingly digital: conferences and meetings are now held virtually, grocery stores offer an increasing array of contact-free purchasing, and our favorite businesses and non-profits have faced an abrupt drop in revenue. Although data are still being released, early studies can tell marketers quite a lot already about the shift in consumer behavior, both in retail and fundraising spheres.
Late this summer, cloud communication platform Twilio conducted a study of UK and global businesses and found COVID-19 "the digital accelerant of the decade." The survey found that the pandemic has sped up digital communications strategies for companies by a global average of 6 years.
The "COVID-19 Digital Engagement Report" notes that not all sectors are advancing at the same pace, and the results might be surprising to some. While healthcare (74%) and retail (70%) are advancing their digital communications plans rapidly, the greatest acceleration has been in construction businesses, with an average acceleration rate of 8.1 years. This shows that if companies are willing to put in the effort, the customer base is certainly ready for them.
Not all organizations are keeping up with changes in consumer behavior, though: a recent article in the Harvard Business Review notes that industrial firms in particular have been slow to catch up with the digital engagement of their customers. The article finds that "COVID-19 is pushing once digitally-resistant customers to new levels of comfort with technology and raising expectations for how their business partners engage them." The L.E.K. Annual Contractor Survey found that 80-90% of building and construction customers use digital channels to gather information, read reviews, and check price, quality and availability of products.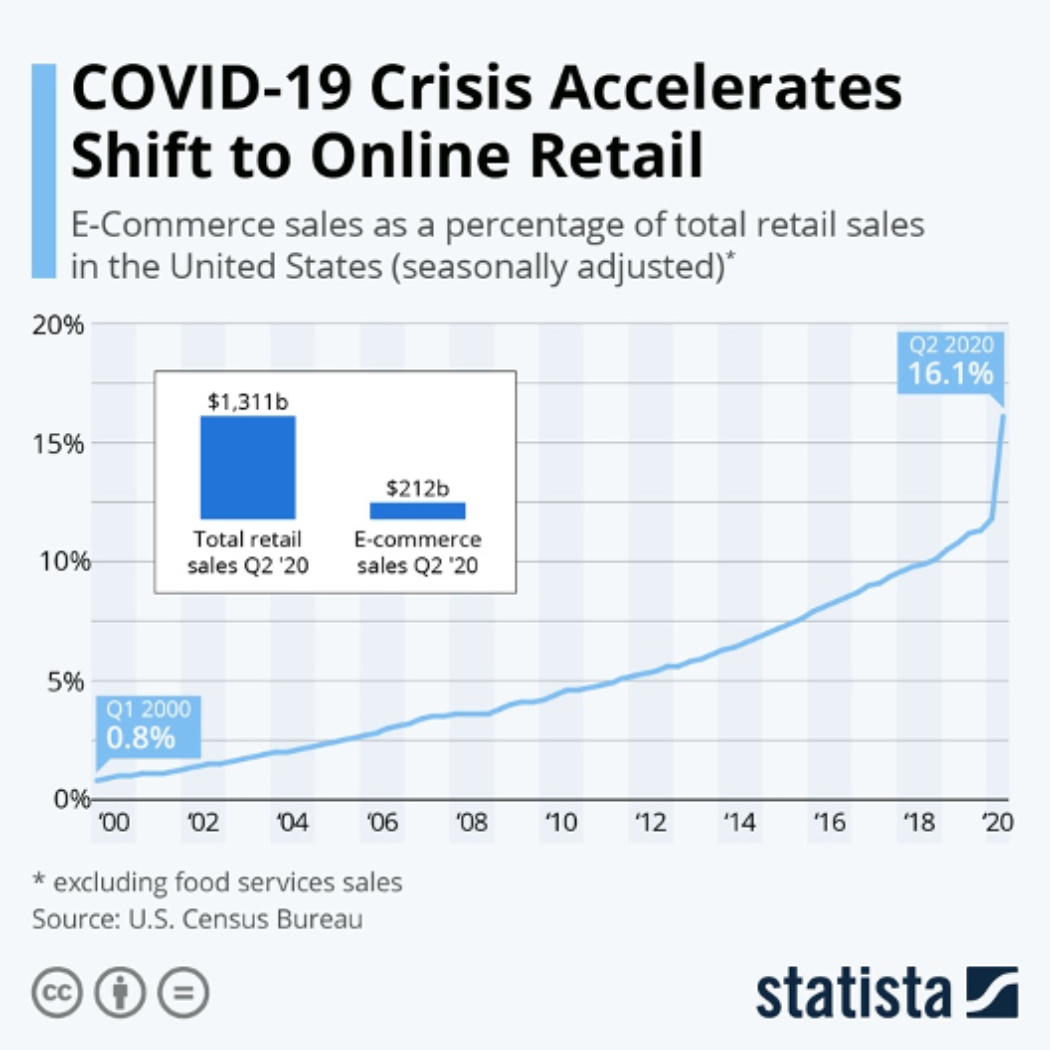 Retail
Online retail sales have spiked dramatically since March 2020, according to the U.S. Census Bureau. In five years, online portions of retail sales more than doubled in the U.S. from 2015 to 2020. In Q2 of 2020 alone, retail sales increased more than the previous five-year period as more customers turned online to purchase items and services they had previously bought in-person.
Although it may be too early yet to tell how much of this shift will be permanent, an October survey found that although 91% of shoppers miss shopping in stores, only 5% intend to try a product in-store in the next six months.
As winter sets in and shoppers become more accustomed to the convenience and safety of online shopping, retailers will need to adjust their holiday communication strategy to match shoppers' preferences.
Nonprofits
The news for nonprofits seems increasingly concerning. The Stanford Social Innovation Review conducted a survey of 233 nonprofit organizations in early June 2020. Since March of 2020, more than half had already lost revenue over 2019 as a result of the pandemic. But with 82% of those organizations planning some level of staff working from home, it's no great surprise that programming for the nonprofits surveyed is moving digital as well, with 81.5% already digitizing programming by early June.
And the time is ripe for change. More than 90% of respondents in a recent Merkle Analytics survey plan to reassess historical practices in order to eliminate under-performing campaigns. Says Colin Stewart of Merkle, "The smart nonprofits are focusing their efforts on localized, relevant messaging and getting more efficient in their marketing spend by focusing on the individuals who can deliver the highest ROI."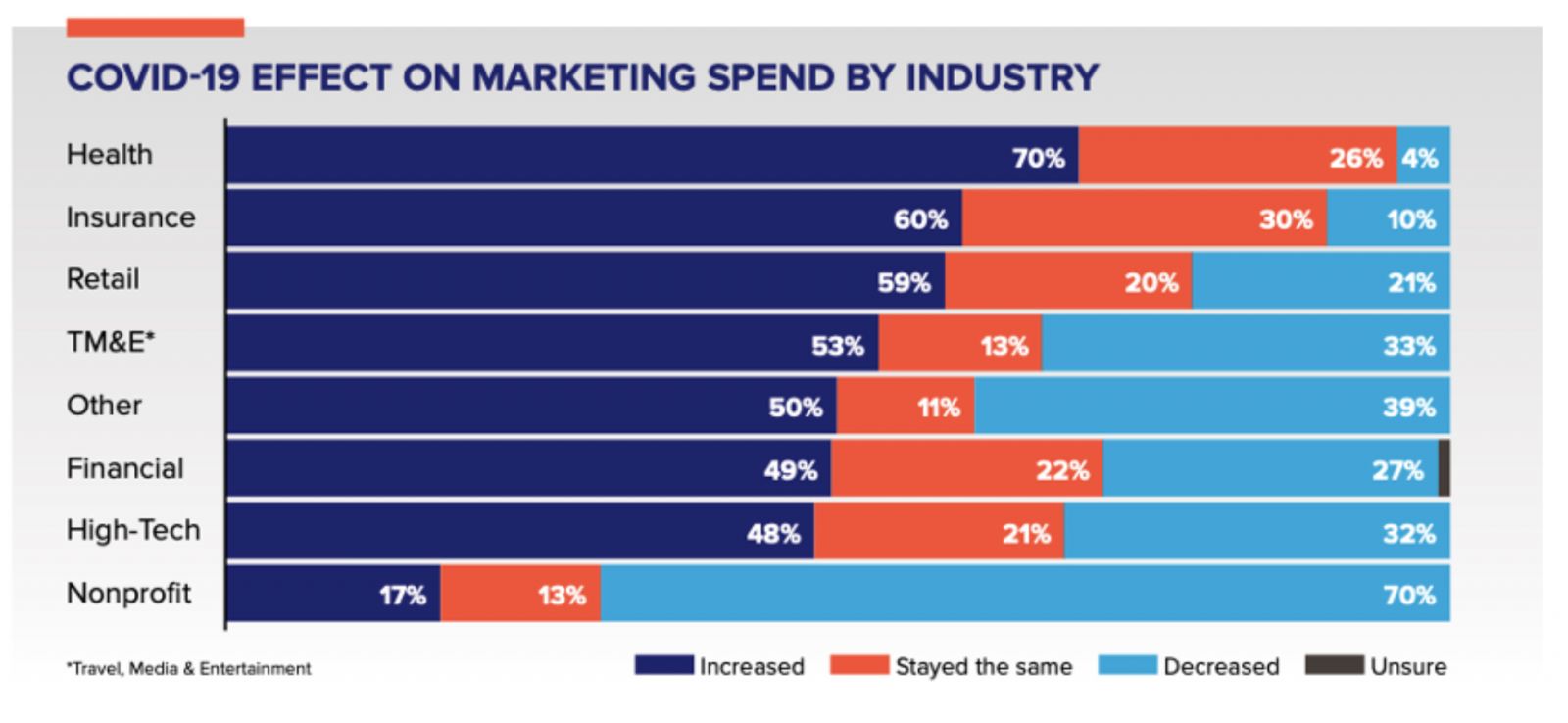 Many companies and nonprofits are using the jolt to the sector created by the pandemic to invest in more — and more effective — marketing technology. The same Merkle report shows that a full 90% of insurance providers and 61% of other nonprofits, as was the case with other business sectors, plan to accelerate their marketing technology update timelines.

In the coming months, the organizations with the flexibility and foresight to pivot to meet demand will have the advantage in grabbing customers' and donors' attention. As the digital environment becomes more crowded, more nuanced marketing solutions that best utilize audience insights and multi-channel strategies will provide a leg up.
Phoenix Innovate's data-driven research, combined with our focused ability to craft emotional appeals thru multi-channel communications strategies provide our clients with the best possible marketing ROI.
Sources:
https://www.iot-now.com/2020/07/23/104031-covid-19-has-sped-up-digital-transformation-by-5-3-years-says-study/
https://www.digitalcommerce360.com/article/coronavirus-impact-online-retail/
https://www.twilio.com/covid-19-digital-engagement-report
https://ssir.org/articles/entry/covid_19s_impact_on_nonprofits_revenues_digitization_and_mergers
https://www.incisiv.com/ebook-the-new-store-shopper-in-high-touch-retail
https://mediafrenzyglobal.com/u-s-covid-communications-survey-results/
https://hbr.org/2020/09/industrial-firms-need-to-give-their-customers-a-digital-experience