Retail Sales

Generated over 2,500 purchases from new customers in the first six months
3.9X ROI on marketing spend
33% increase in average retail sale

CHALLENGE:
Henry Ford Optimeyes (HFOE), part of the Henry Ford Health System, challenged Phoenix Innovate to drive new patients and purchase at their 19 health and retail centers in Michigan.

SOLUTION:
Our approach was to implement a data-driven strategic planning process to create a 6-month test and learn program that would get results the first month.
We began with analysis of the existing patient database to better understand commonalities among patients at all locations, to identify distinct demographic characteristics for each of the 19 locations and to visualize the trading area for each location. Our analysis directed us to:
Build profiles of the typical patient for each store based on ethnicity, median age and household incomes
Target new mover audiences based on the profiles each month
Incorporate two larger look-a-like audience direct mail efforts over the 6-month period
Establish precise trading areas for each eye care center to avoid duplications and to make tracking response more exact
Develop two creative approaches, one more retail focused and one more healthcare focused
Identify drop quantities based on income generated by the location
Lay the foundation for data-driven decision-making and performance tracking and reporting across the organization
Create results dashboard to visualize key areas of performance that add to our understanding of customer behaviors across the system.

RESULTS:
In the first six months, we generated over 2,500 purchases from new customers with a 3.9X ROI on marketing spend and 33% increase in average ticket.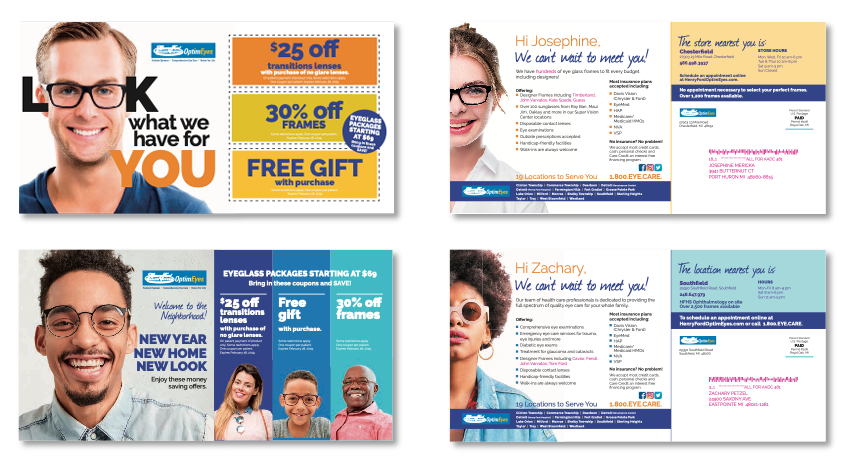 ---