Member Acquisition


Member Acquisition and Revenue Increase for Detroit Zoological Society
71% reduction in acquisition cost per member.
1,200% increase in membership net revenue.
CHALLENGE:
A 1,200% increase in net proceeds may not seem possible, but that's exactly what we helped the Detroit Zoo achieve over a five-year period through a more efficient and targeted marketing program.
The Detroit Zoo came to us hoping to improve their membership acquisition.

SOLUTION:
Our solution started with an append of historical membership data to each record in their database. We then analyzed multiple data sets to understand the demographic make-up of the membership audience and the key factors that caused lapsed members to rejoin. This information allowed us to refine our list pulls and purchase lists of acquisition targets that resembled our current audience.
In addition to our audience insights, we switched from an approach that relied solely on direct mail and return mail to one that leveraged multiple channels (email, direct mail and web) to engage our audience and drive more responses online. This not only saved cost, but reduced the time to process memberships significantly and helped the Zoo meet goals to reduce their environmental impact.
Then our efforts turned to creative and messaging. We created simple, fun and high-impact content that captured the viewer's attention with a unique close-crop image of different zoo animals. The colors and patterns and intensity of the animals' eyes made a connection with our target audience and their children. We heard stories of kids collecting the direct mail and anxiously awaiting the next one to arrive in the mail.

RESULTS:
Every year since the implementation of this more data-driven approach, we have seen an increase in the Zoo's member acquisition ROI and a reduction in the cost to acquire a member. Results of efforts for current year compared to baseline year:
1,200% increase in membership net revenue
71% reduction in acquisition cost per member
35% of new members come through the online channel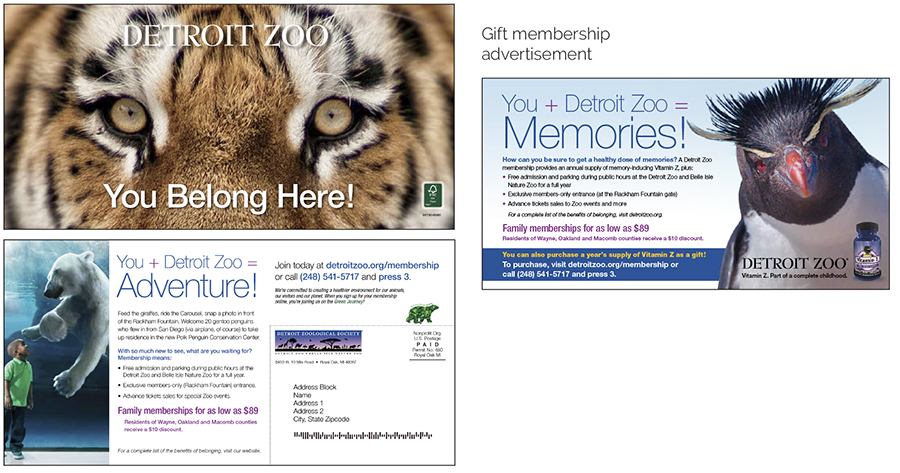 ---