Fundraising


Fundraising revenue increased for WGVU Public Media
Increased net revenue 21% in the first 5 months.
Over a two-year period, 12x better results than the national average for PBS stations.
CHALLENGE:
WGVU Public Media manages two radio stations and one television station. Each month, the organization mailed six different versions of its membership renewal letters for each of the three stations, for a total of 18 different letters. Aside from the obvious time-consuming complexities of managing this many variables, WGVU's renewal process had several other challenges:
There was inconsistency in the use of brand elements.
The quantities of each mailing were low, making the print and mail production process inefficient.
All the letters were PBS-TV focused, even though 20% of its membership audience was specifically donating to one of the radio stations.
Members needed to be educated on the connection between WGVU and all the stations.
Messaging was transactional and focused on the organization rather than the value of the member's support.

SOLUTION:
In our first year of working with the client, we were able to implement new techniques that spoke more specifically to its members:
Analyzed transactional data to develop an efficient strategy to implement personalized variable messaging, including brand elements, based on station affinity to create a stronger connection.
Authored value-driven content to provide donors with specific benefits of their support.
Evolved production process to drive down costs of print, mail and postage.

RESULTS:
Our Authentic Marketing approach generated these transformative and sustainable results:
Increased net revenue 21% in the first five months, without additional expense.
Increased donations 22% in 2013, which is 22 times better than what PBS stations experienced nationally that year.
Increased donations 17% in 2014, five times better than PBS stations nationally that year.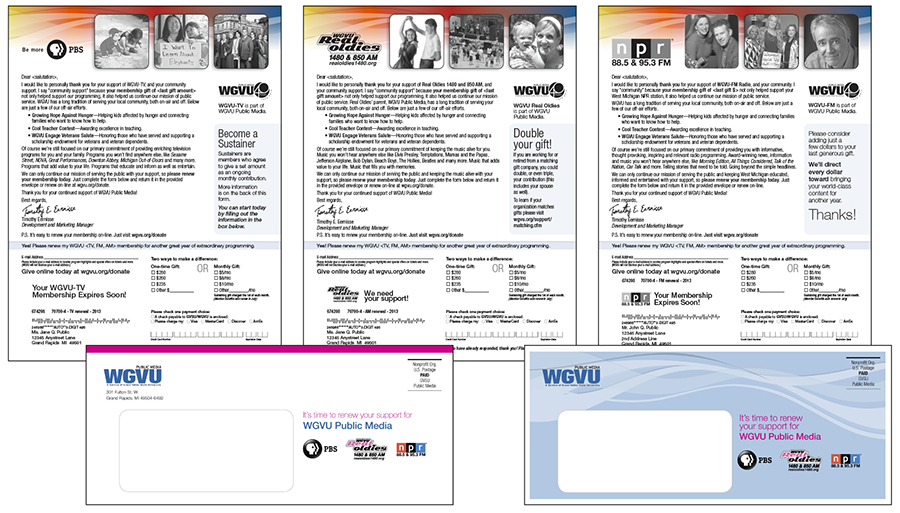 ---