Digital Solutions: Lead Gen and Conversion


Custom web design, enhancements for ADA compliance support Northwood University's recruitment efforts
Mobile-friendly design that is more compatible with prospect browsing habits.
Improved accessibility for ADA compliance.
CHALLENGE:
Northwood University is a college that excels in developing free-enterprise leaders who will drive global economic and social progress. The client came to us for assistance with updating its website. The site had been cobbled together by multiple developers over the years and was archaic in its architecture. This prevented the client from employing certain ADA accessibility technologies or digital media advertising tactics that required placing pixels in a global footer.

SOLUTION:
Our team recommended building a new mobile-first, responsive design site. This site utilized a custom content management system that:
Allowed non-technical staff to make updates.
Included core modules for frequently updated content, such as semester dates, program information and contact information.
Makes it easy for Admin staff to update.
Provides multiple levels of controlled access for users across the University.
Integrates with prospect and student databases for improved tracking and performance reporting.
Integrates with third-party calendar and data collection applications.
Improves META data and Alt tag functionality for better web accessibility and SEO.
Allows global pixeling for up-to-date digital media activity.
Renders properly on mobile phones. (Research indicated 50%+ of their visitors were using to access site.)
Provide multi-lingual capabilities for international students.
Allow the website to be current up to the minute.
Provide the ability to add retargeting to the media mix.
Offer improved tracking of digital media for better optimization.
Provide better mobile experiences.

RESULTS:
Our Authentic Marketing approach generated these transformative and sustainable results:
The new format and coding structure achieved Northwood's goal of ADA compliance for web content.
Mobile-friendly design is more compatible with users' browsing habits and increases SEO rankings.
Improved accessibility for ADA compliance.
Custom CMS-driven marketing website.
Digital devices with statistics showing.
Integrated prospect database to easily deploy content assets based on profile data.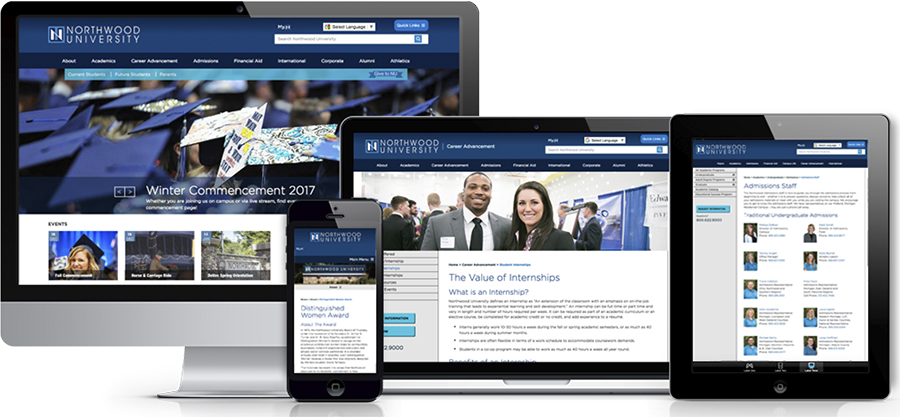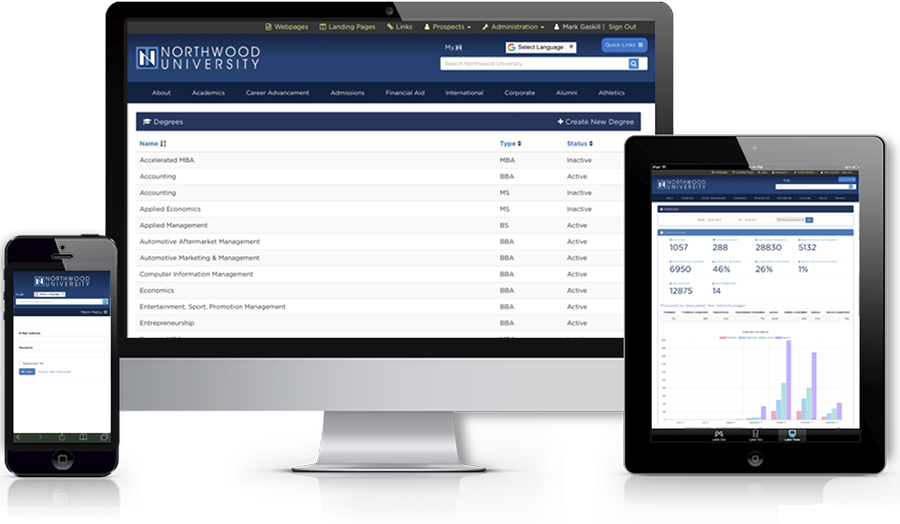 ---