Customer Retention


Email Marketing, Microsite Development Lead to 3x Increase in Average Ticket Revenue
3x increase in average ticket revenue.
Achieved 44% open rate vs. industry average of 13-21%.
Achieved 43% CTR vs. industry average of 3%-6%.
CHALLENGE:
You've probably noticed that Belle Tire is a marketing powerhouse when it comes to conventional advertising channels – they have a very prominent presence at entertainment venues, on the airwaves and on TV. They also have a very robust social media and web presence, yet they were missing the ability to connect directly with their audience on a more personal level.

SOLUTION:
Phoenix Innovate created a preferred customer campaign concept for Belle Tire to connect with their audience using email. Where Belle Tire had been collecting email addresses from customers and prospects to send them PDFs of their transaction receipts, we proposed a slight twist: send them to a personalized microsite to download digital copies of their estimates and transaction receipts. While there, visitors are presented with an opportunity to opt-in to Belle Tire's Advantage program, entitling them to receive exclusive offers, auto service information and more delivered through a monthly email. When joining, they can personalize the content of their emails to receive only the information and offers that are of interest to them. Phoenix created and managed the microsite, all the electronic transaction-related emails for Belle Tire as well as the monthly promotional emails to the Advantage members.

RESULTS:
Over 500,000 email group members in less than 1 year
3x increase in average ticket revenue
44% email open rate (industry average is 13% to 21%)
43% click-thru rate (industry average is 3% to 6%)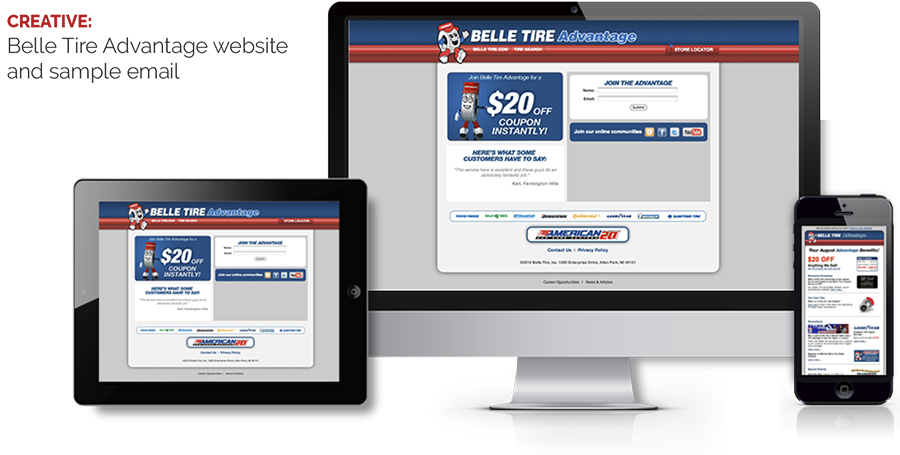 ---